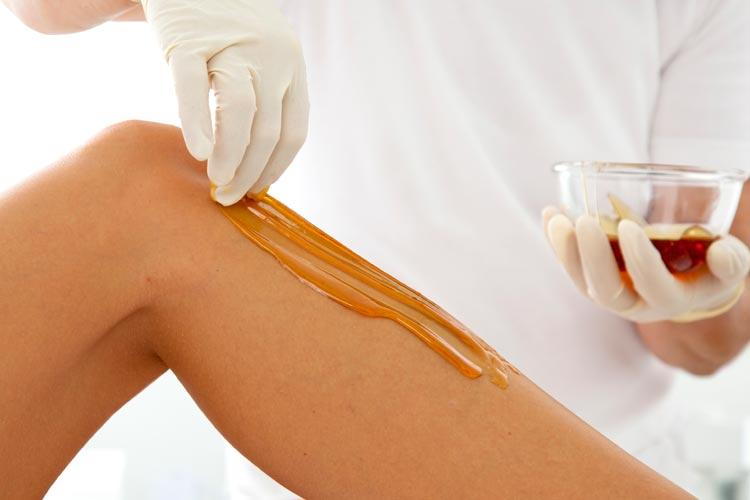 Wondering how often you should sugar or wax? 
Most people think the answer depends on how often you hit the beach. And while we're absolutely here to prep you for your next tropical vacay, the answer is a little more involved. Here's why: Timed right, regular sugaring appointments will make your hair grow back lighter, finer, and less visible. And who doesn't want that?
Of course, as any experienced esthetician will tell you, your results will depend on you, your skin, and your hair. But there are a few general guidelines that'll help you know what to expect AND ensure you get the most out of this easy hair removal procedure. Here, we're breaking down the questions we get most often.
How often should you sugar or wax?
The short answer for all types of waxing is when the hair is about 1/4 of an inch. But, with sugaring, hair can be removed when it's as short as 1/8 of an inch (typically 10 days after shaving). You can safely sugar wax as often as every two weeks, though most clients go a bit longer between appointments. 
For best results, it's necessary to remove hair while it's in the growth phase. After 3–4 weeks, hair is no longer in that growth phase, and thus the sugaring process isn't as effective as it could be long-term. 
How long does sugaring or waxing last?
Typically, you'll see a bit of hair growth about 1–2 weeks after a sugaring appointment. But even if you're not seeing a ton of growth, you'll want to continue sugaring regularly. Here's the sweet news: With frequent sugaring, your hair will grow back finer, thinner, and far less visible!  
After each sugaring appointment, we'll give you the scoop on results you can expect to see, when you should return for another sugar wax, and how to care for your skin and hair in the meantime.
Explore our sugaring hair removal services and request an appointment at our Seattle sugaring studio.
Wait—what is sugaring again?
We're glad you asked! Sugaring is the oldest form of hair removal, dating back to ancient Egypt. Like waxing, sugaring removes unwanted hair at the root. But there are a few key differences between waxing vs sugaring. For one, sugaring uses a special mix of sugar, water, and lemon juice or citric acid. Unlike wax, the sugaring mixture isn't heated, so you don't risk skin irritation or burning. And finally, sugaring removes hair in the direction of growth, rather than against it, resulting in far less breakage. 
In short, sugaring is gentler and can be less painful. (It's a little pricier than your average wax—but in our book, it's more than worth it.) 
Learn more about sugaring vs waxing.
Can I sugar...everywhere?
Yup! Brows, back, Brazilian—the sugaring hair removal technique can remove unwanted hair just about anywhere. The most popular areas for women are on the face, bikini line, underarms, and legs. For guys, it's also a great way to remove unwanted back, nose, and ear hair. Our Seattle studio also does lots of men's Brazilians!
Each of these areas will likely have a slightly different regrowth rate, and our staff can share how often you should return based on where you're getting sugared. 
Sounds great—when can I book an appointment?
We'd love to work with you! Learn more about our sugaring hair removal services and request an appointment at our Seattle studio.
Have questions? Give us a buzz at (206) 632-3602.