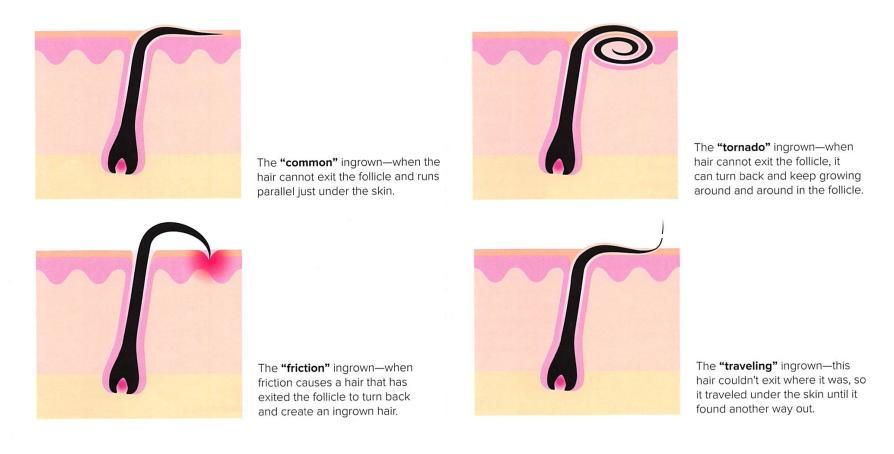 How to Treat Ingrown Hair
Ugh, ingrown hairs. Although many of us have experienced them, they're never fun. They tend to show up as a red, sensitive bump (similar to a pimple), and besides not looking cute, they can lead to discomfort, inflammation, or even infection. 
In short, these little guys are not something to take lightly! So before you take things into your own hands, read on for what causes ingrown hairs, how to treat them, and how to make sure they don't come back. 
What causes ingrown hairs (and what are they, in the first place)?
Here's the deal: If a hair is unable to grow through the follicle like it usually does, it may grow beneath the skin or curl back into the skin instead of rising up through it. This is caused by blockage, friction, or dry skin, all of which can occur from shaving, improper hair removal technique, or dead skin cell buildup.
If you want to get really technical, there are a few different types of ingrown hairs, each with a different direction of growth and appearance:
Superficial Ingrown: The hair runs parallel and just under the skin—it looks similar to a sliver.

Friction Ingrown: The hair grows out of the follicle and then turns back into it. 

Spiral Ingrown: The hair is unable to rise out of the follicle, so it turns back into it and continues to grow around and around in the follicle, like a spiral.

Traveling Ingrown: The hair is unable to grow out of the follicle and travels under the skin—it may or may not find another way out.
How to get rid of ingrown hairs 
First things first: Do NOT pick or squeeze your ingrown hair! It can cause more irritation, inflammation, bruising, scarring, or even infection. For at-home treatment, we love Fur Ingrown Concentrate Spot Solution, an effective natural treatment sold in the Sweet Spot Seattle studio. A hot compress and gentle exfoliation can work well, too.
But for extra-tough ingrown hairs, see our team of master estheticians—professional extraction is the best way to treat ingrown hairs safely and avoid making things worse!
Request an appointment today at our Seattle sugaring studio.
How to prevent ingrown hairs
Two words: Exfoliation and moisturizing! When your skin is healthy, it'll smoothly guide the hair in the right direction of growth with an easy exit through the follicle, preventing those ingrown hairs. 
Use an exfoliating scrub or mitt at least twice weekly to remove dead skin to clear a path for hair to grow. Skip loofahs, brushes, or towels for exfoliation—they're breeding grounds for bacteria, which can make ingrown hairs even worse. Follow with a gentle lotion.
Also, reconsider your hair removal method. Sugaring is a great alternative to both shaving and waxing, and it's our specialty here at The Sweet Spot! This ancient Egyptian hair removal method extracts the entire hair from the follicle in the direction of growth without breaking it. Using a mixture of sugar, water, and lemon juice that is only able to attach to hair and dead skin cells, sugaring will leave you with freshly exfoliated, hair-free skin—and far fewer ingrowns.
"This was my first sugaring experience, and I am a complete convert! After waxing and dealing with some residual irritation and ingrowns from a bad wax a few months back, I wanted to try sugaring to see if it would help with the irritation. I don't remember my sugarist's name, but she was delightful! I asked a lot of questions, but she was really understanding and took the time to explain everything she was doing. She even went the extra mile and took some time to try to treat some of my ingrown hairs."
— Lisa F.
Learn more about our sugaring hair removal services for women and men. 
Can you help me, like, now?
Absolutely! Whether you have an SOS ingrown hair situation or want to try sugaring to prevent them, request an appointment today at our Seattle sugaring studio.
Have questions? Give us a ring at (206) 632-3602.