Sweet Spot Seattle- The First and Still the Best!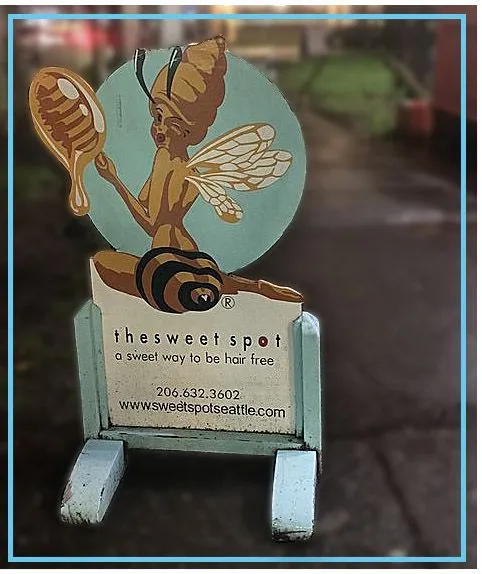 The Sweet Spot Seattle was the first sugaring studio in Seattle, and we continue to be considered the best. But don't take our word for it—hear from our happy customers:
"I can't imagine trusting my skin to anyone else."
"When it comes to hair removal, sugaring is so much better for my skin than wax. The staff at the Sweet Spot are kind and conscientious and always go out of their way to make you feel better about yourself. I've been a long time client and can't imagine trusting my skin to anyone else."
—Fey H
"Sweet Spot, it is!"
"I've been getting waxed/sugared for 10+ years. 7 of them have been at Sweet Spot. The estheticians are fantastic and the rest of the staff are friendly and super helpful with calendaring appointments. The facility is clean and they're very professional. No need to look further... make an appt!"
—Rachel Y
"This place is a gem!"
"Sugaring is divine, relatively painless and so organic. I was lucky enough to have Lara as my sugaring goddess, amazing vibe and amazing work. You ladies rock, I'll definitely be back!"
—Claudia P
"Wonderful customer service!"
"Great line of products to choose from! Added bonus: the incredible art adorning the walls of the shop adds to the ambiance of this 1st rate oasis of self-care."
—Colleen C
"It's your must-go place!"
"I recommend The Sweet Spot's skin classic for anyone who has been bothered by irregular skin. It removed the skin tags on my neck, and bumps on my face!"
—Will L.
"Have never been disappointed."
"I have been going to The Sweet Spot for over 10 years. I have found it to be [a] wonderful experience. The staff are professional and well trained and very, very friendly."
—Christopher M
"Love this place and the crew of sweet bees!"
"I've been a client for 10+ years and can't say enough about the Sweet Spot! They have all become friends and have supported me in more ways than just aesthetically."
—Megan M
"Excellent customer service skills."
"It was the 1st time in my 47 yrs of existence to try a hair removal service. I felt well cared for and safe. Lara's knowledge and coaching through the process was a true comfort. I highly recommend The Sweet Spot!"
—Lisa G
"Amazing!"
"A truly dynamic group of women who are experts in providing genuine service and masters at sugar hair removal. Love this place, the people and all the great products."
—Jill A
"My first manzillian wax."
"Jessica is 100% professional, & made me feel very comfortable… The rooms are very clean & what I would expect. Jessica describes each step before continuing, so there are no surprises. As far as pain goes, it isn't that bad. Next appointment is in a few weeks. I love it. My wife loves it. Man up and do it."
—Tyler S
"I'm happy every time."
"Their staff are very professional and friendly. Their new location is very nice and spacious, plus all the extra beauty products for purchase. I'm excited that the summer is coming and their business has been expanded to accommodate more clients. As far as scheduling goes, although there were times when I couldn't get my first choice, they always try to accommodate my schedule as much as possible."
—Chi D
"Adorable place with great results."
"I am absolutely a fan of sugaring over waxing as a result of The Sweet Spot. Everyone is very professional while still creating a warm and relaxing environment. Totally worth the trip and dealing with the sometimes hard to find parking in Fremont!"
—Azurae P
"The staff was incredibly welcoming."
"My sugarist made me feel very comfortable. I had been waxing for years but I was immediately converted the moment I tried sugaring, can't recommend this place enough."
—Amanda N
"Would definitely recommend."
"The owner, Lara, is such a nice person. Clearly cares about making her shop a better place for her customers and investing in the community around her!!"
—Cody H
"Very nice staff."
"My aesthetician was quite knowledgeable. And they have client parking which is key in this neighborhood."
—Gwynne S
"Amazing as always!"
"I'm a loyal patron and wouldn't go anyplace else."
—Carrie S
We're the Best Sugaring Seattle Has to Offer!
The Sweet Spot Seattle reviews on Yelp
The Sweet Spot Seattle reviews on Google
Want to join our community of happy customers? Book an appointment now!